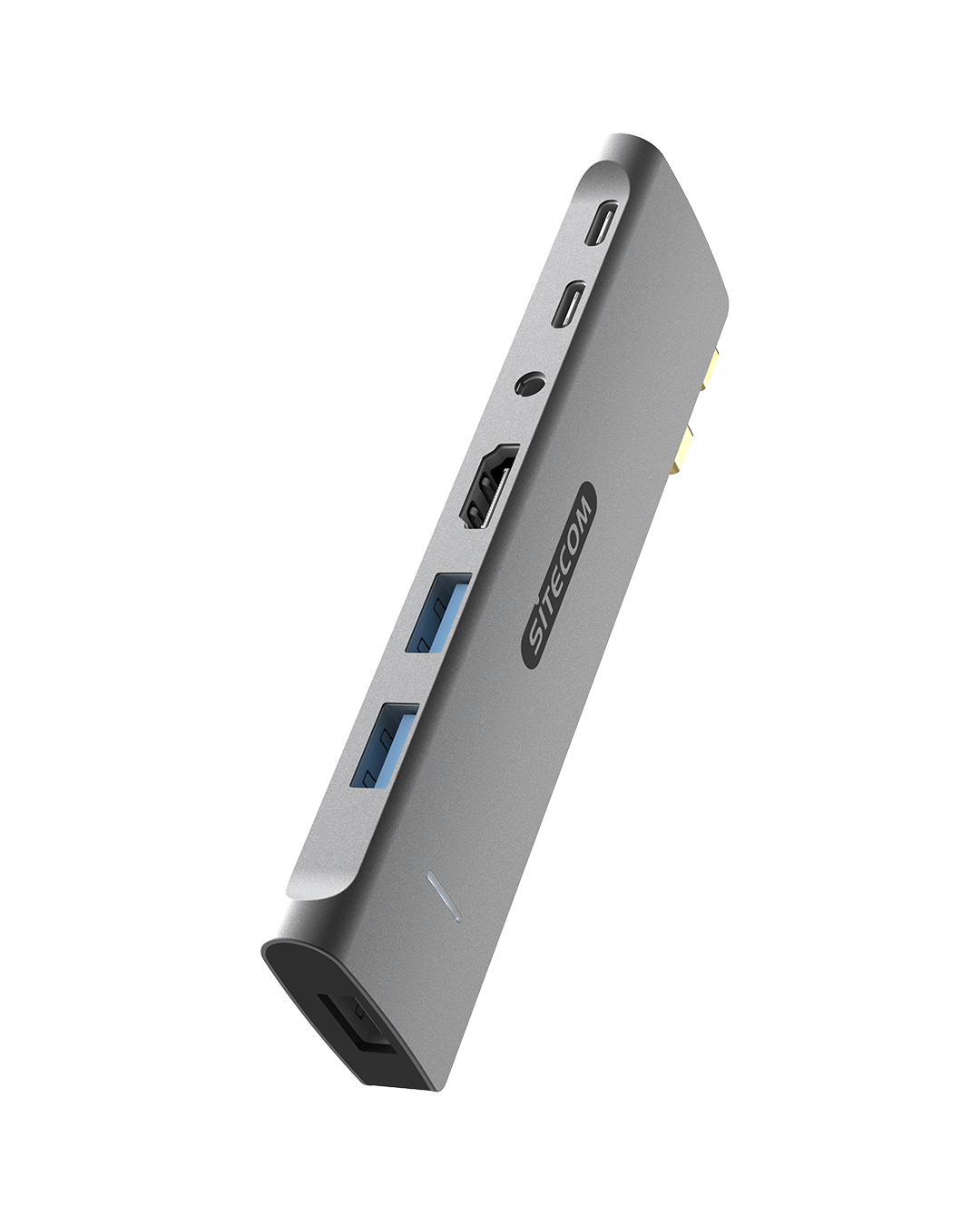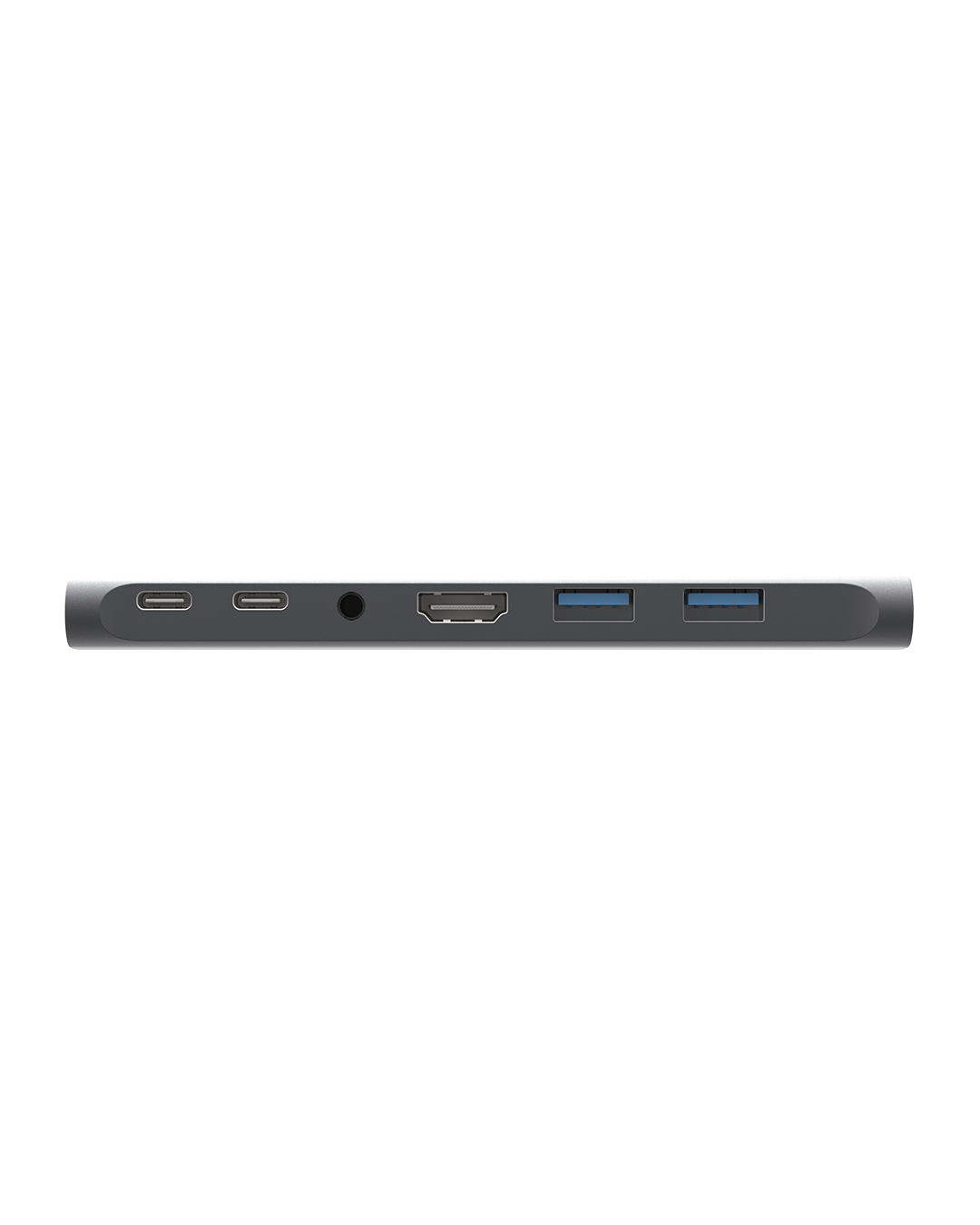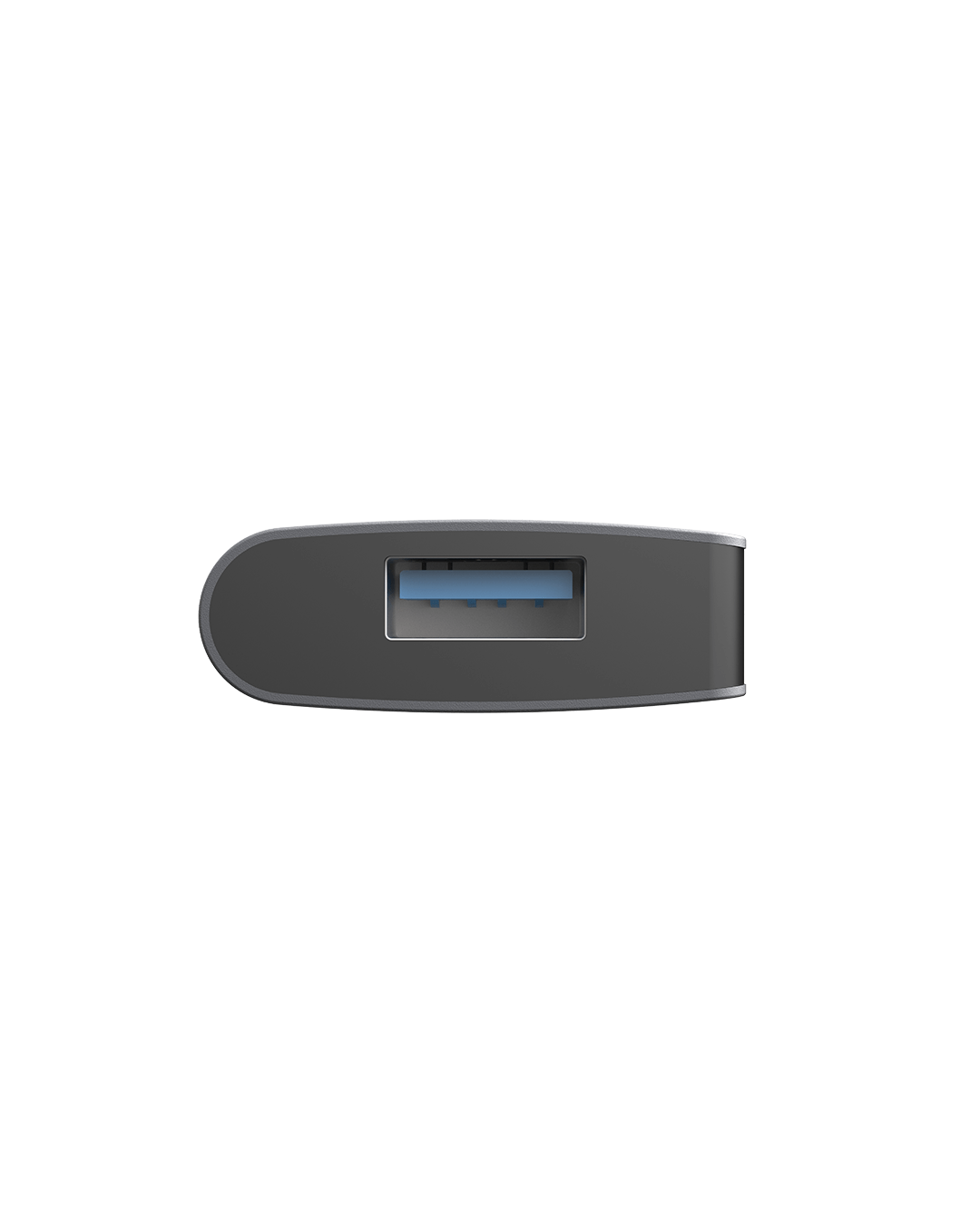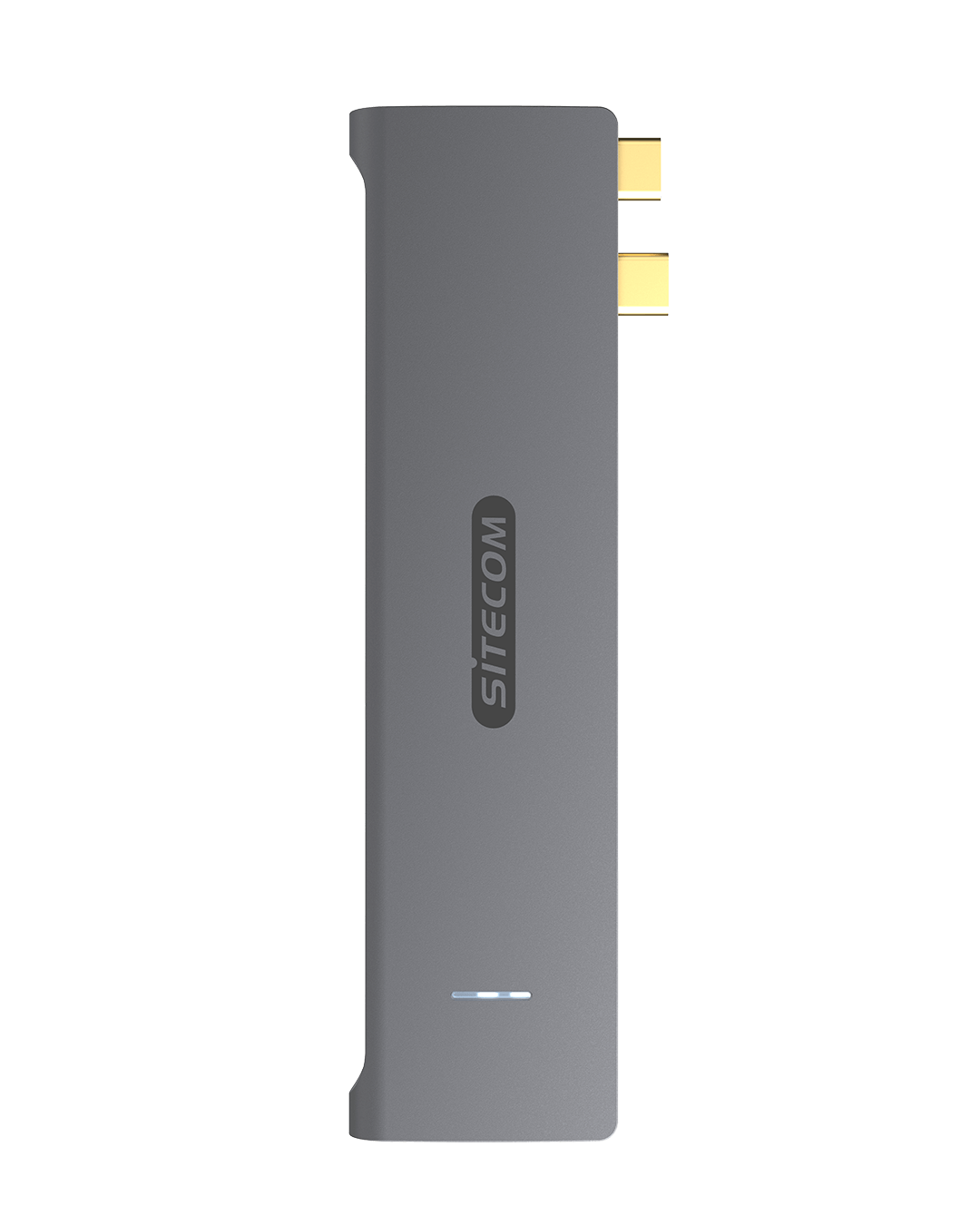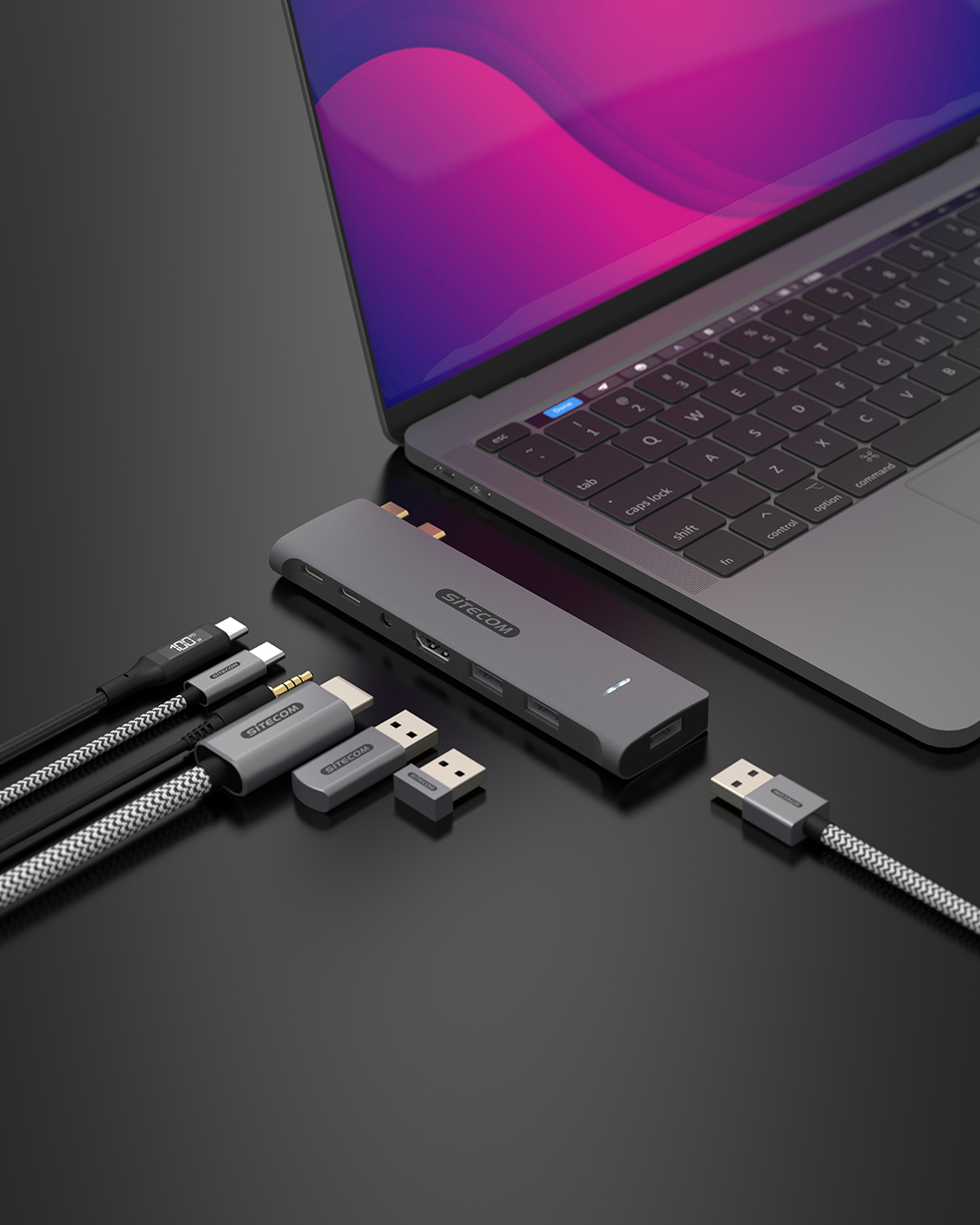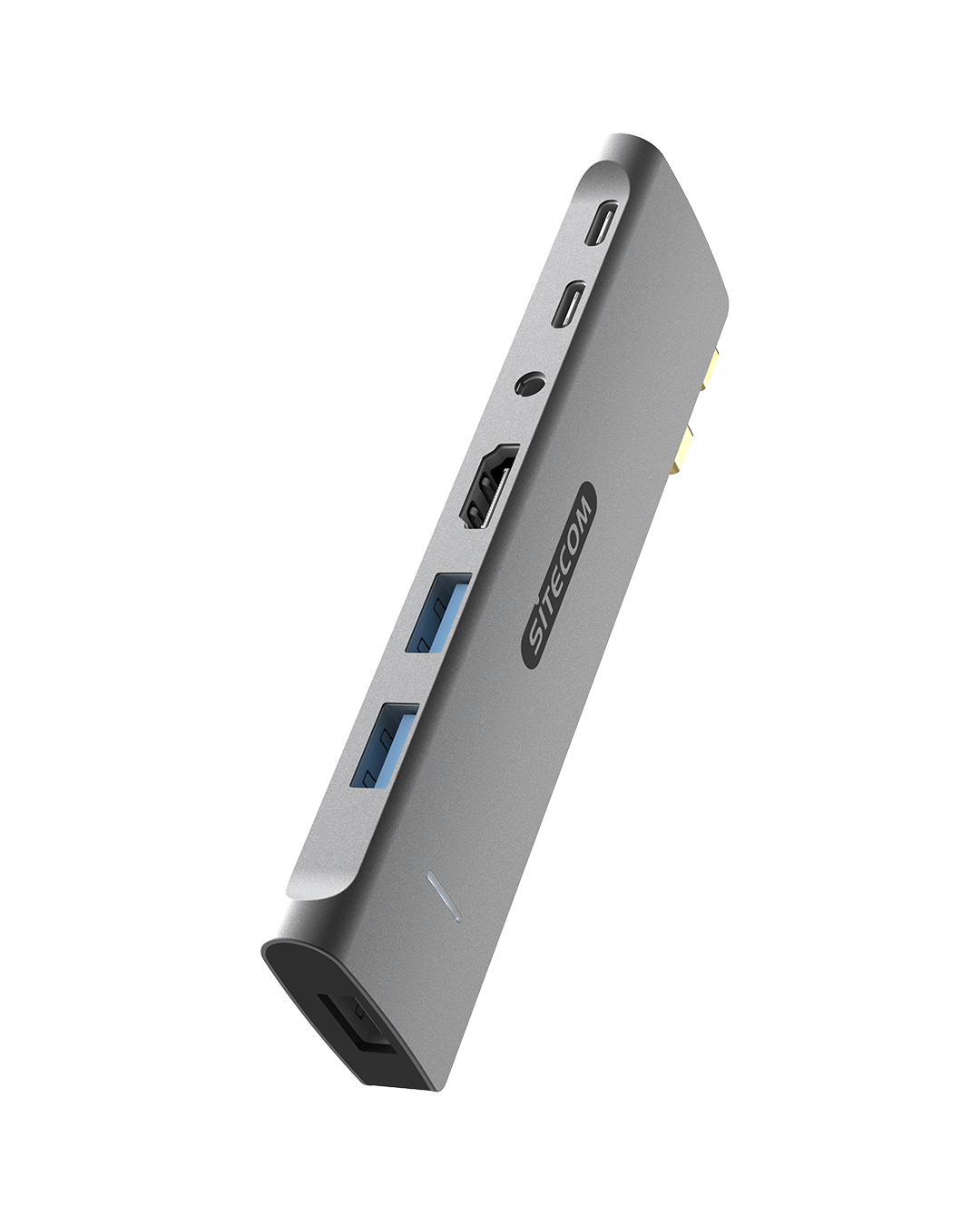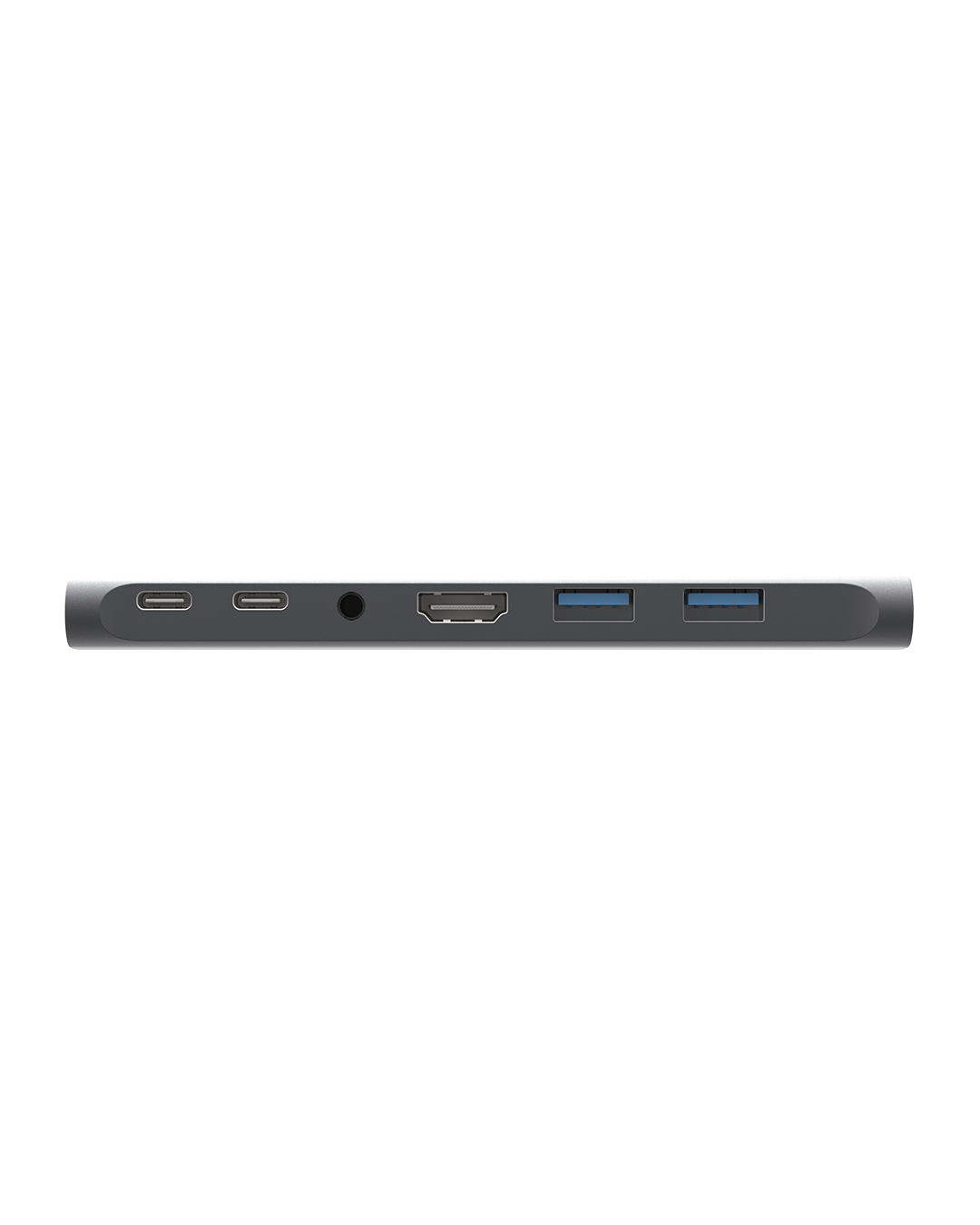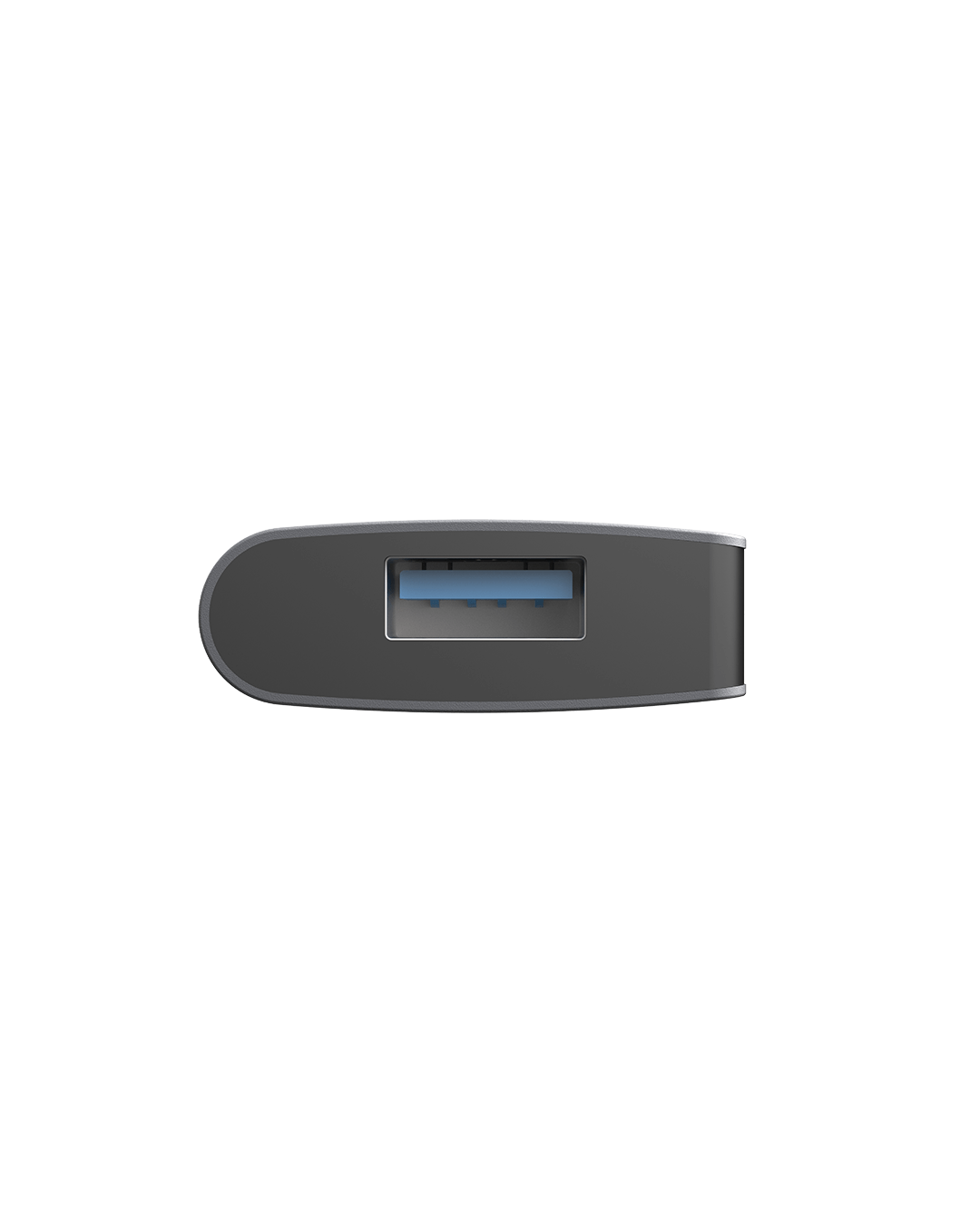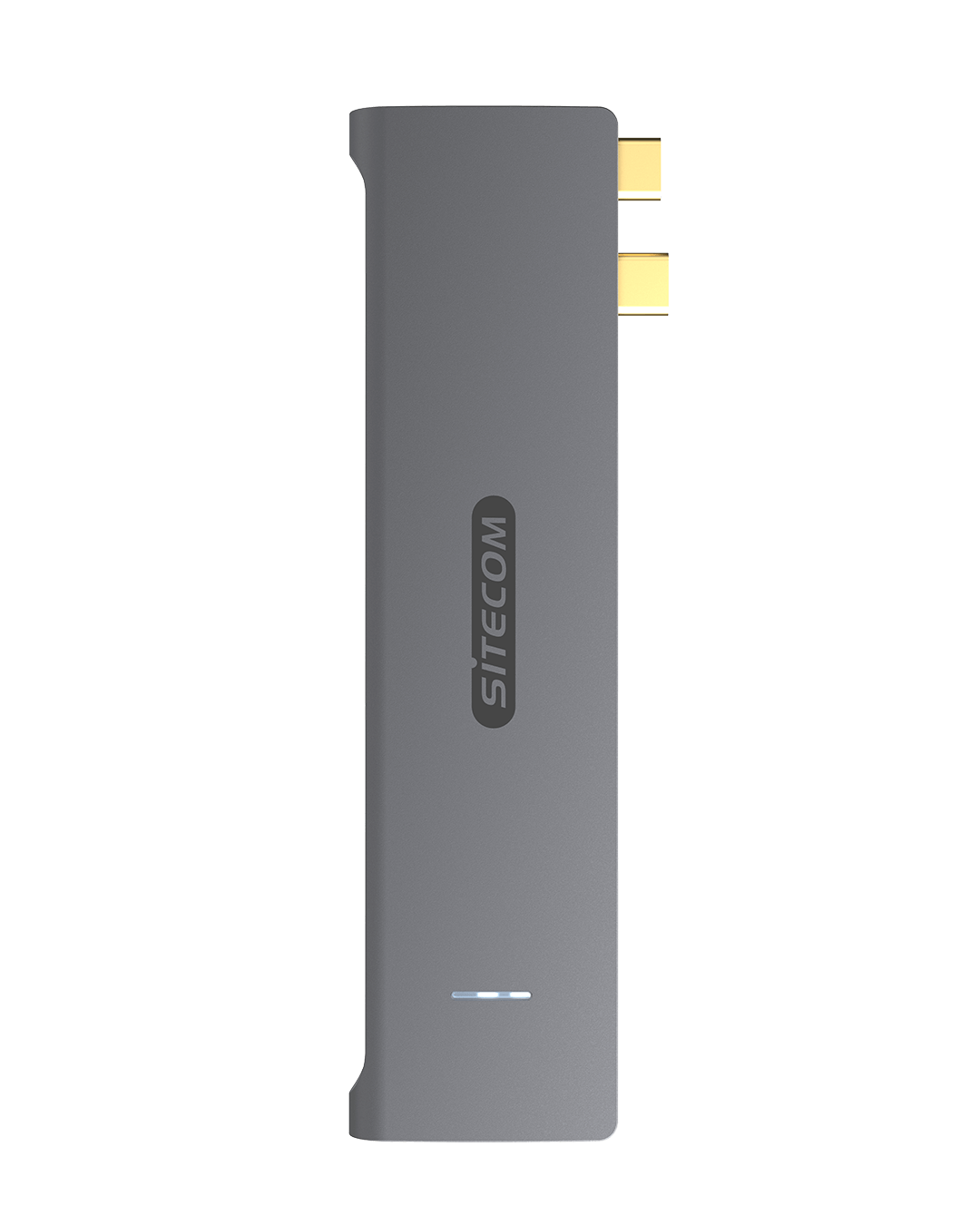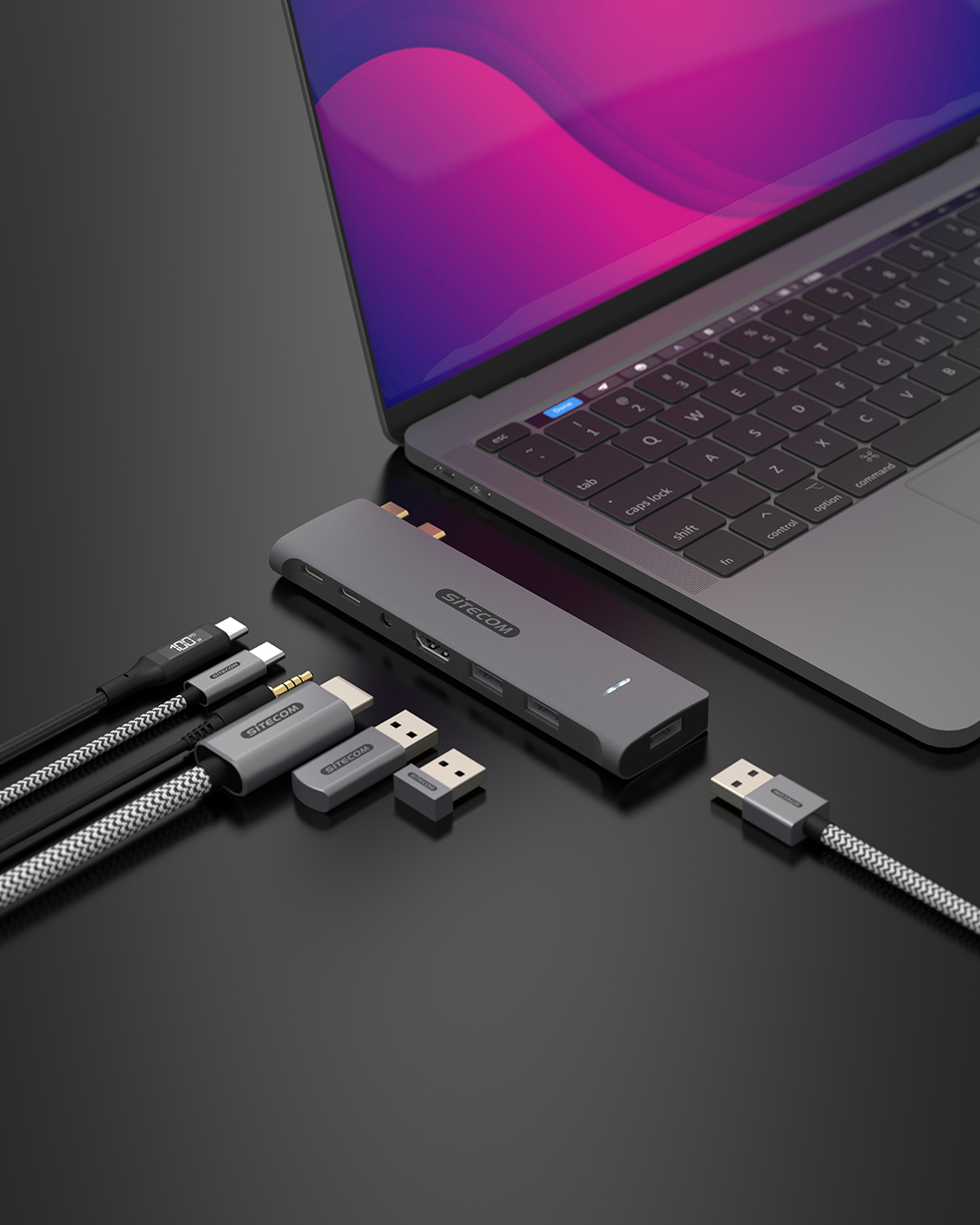 For MagSafe M1/M2 MacBooks
7 in 2 MacBook Multiport Hub
This product was optimised for MacBook Air/Pro M1/M2. However, this multiport hub will also work great on all other dual USB-C MacBooks.
Pay with ease and worry free with Secure checkout

Free delivery when you order exceeds €50

Always free returns
Dual USB-C male in
1x USB-C data and video port with PD 100W max
1x HDMI 1.4 - max. resolution 4K 30Hz
3x USB-A 3.0 - max. data speed 5 Gbps / max. 4,5W charging per USB port
1x USB-C 3.2 GEN 1 - max. data speed 5 Gbps / max. 4,5W charging per port
1x Audio port 3,5mm 192kHz/16bit
Plug and Play (no drivers needed)
HDMI port is backwards compatible
USB-C Power Delivery requires USB-C power adapter and cable
Transfer speeds depend on the host device and cable speed rating
External DVD drives not supported M1/M2 MacBooks don't support MST
Supports all MacBooks with double USB-C connectors. This product is optimised for MacBook M1/M2 models.
For MagSafe M1/M2 MacBooks
Designed to fit
This 7 in 2 MacBook Multiport Hub was specially designed to fit the MagSafe M1/M2 MacBook. It has a dual USB-C connector and leaves enough space to snap on your MagSafe charger, making it fit seamlessly to your MacBook while complementing its aesthetics. Good to know: this Hub also fits all other dual USB-C MacBooks.
Power Delivery
Fast and furious
The 7 in 2 MacBook Multiport Hub supports USB-C Power Delivery up to 100W, ensuring that your MacBook and the Hub are powered quickly and efficiently. Whether you're connecting a smartphone, tablet or other USB-C devices, Sitecom's Hub with Power Delivery guarantees powerful charging. Keep in mind that to benefit from Power Delivery optimally, you will need a USB-C power adapter and cable as well.
HDMI 1.4 + SST video output
Unmatched clarity
Use the HDMI 1.4 port to connect your MacBook to an HDMI-enabled monitor, projector or TV screen. When using the 7 in 2 MacBook Multiport Hub with your M1/M2 MacBook, you will be able to clone your screen (Single-Stream Transport) to another display and transfer up to 4K video resolution at 30Hz. Unlike MST (Multi-Stream Transport), SST is designed for single-display setups. It is commonly used when connecting a computer to a monitor or a laptop to an external display.
Specifications
Connector:
Dual USB-C male in
Max. Power Delivery:
100 Watt
Max. Video Resolution:
4K 30Hz
Max. Ethernet Speed:
None
Max. USB Data Speed:
5 Gbps
Ports:
1x Audio port 3,5mm 192khz/16bit
1x HDMI 1.4 - max. resolution 4K 30Hz
1x USB-C 3.2 GEN 1 - max. data speed 5 Gbps / max. 4,5W charging per port
1x USB-C max. 10Gbps / PD max. 100W
3x USB-A 3.0 - max. data speed 5 Gbps / max. 4,5W charging per USB port
Support
---